Our Story: 23 Years of SuperCamps
03 December 2019
In celebration of SuperCamps 23rd birthday last month, we've taken a moment to reflect on just how far we've come. Trailing a trajectory that takes us right back to when we opened our doors in 1996 through to present day, we've follow some of the milestones and highlights that have come to define SuperCamps as a leading childcare provider in the UK.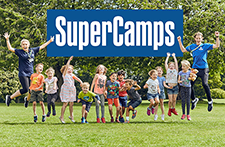 1996
Can you believe we've been around since 1996? When we started we ran from just 3 venues. We now have camps operating from over 40 venues across the UK.
2003

This retro SuperCamps programme from 2003 offered everything from football to horse riding. This was also the first year we introduced swimming to Multi-Activity timetables!

Not only have we modernised our brand image and turned digital with much of our marketing since then, we've also streamlined our Multi-Activity course content whilst retaining favourites such as swimming, archery and dodgeball.

2006

SuperCamps' acquisition of Mega Sports in 2006 allowed us to increase the number of venues we run at within the South East. We've since established ourselves as one of the leading childcare providers in the South, with the majortiy of our venues now operating from within this region.

2008

Did you know that SuperCamps is part of the Cognita school's family? Our relationship with Cognita has allowed us to run from a number of reputable Cognita schools whose ethos towards the development and education of children is aligned with our own values. Being a part of Cognita means that our safeguarding and operational procedures are underpinned by the group's commitment to nurturing 'global perspective', enhancing 'character development' and promoting 'academic excellence'.

2010

In 2010, we introduced a series of Specialist courses which would run separately to Multi-Activity at their own independent venues. Originally coined as our 'A Passion For…' courses, these skill and sport-based programmes would cover everything from Cookery to Sport, Dance to Outdoor Adventure.

We've since brought both course types to the same venue, meaning children can experience and try out a variety of different activities all from one convenient location. Why not try a week of Cookery followed by a week of Bushcraft? You can find out more about the full range of Specialist Courses we currently offer here.

2014

For 2014, SuperCamps joined forces with The LEGO® Group, bringing our popular LEGO® challenges to camp, as well as the opportunity for children to win loads of awesome LEGO® prizes.

Our partnership with The LEGO® Group has since become a staple of our Multi-Activity programme and we've even introduced a specialist LEGO® course where kids can enjoy 3 whole days of bringing to life their bold and innovative builds.

2017

SuperCamps belongs to a portfolio of brands specialising in experiential learning for children, known as Active Learning Group. Founded in 2017, being a part of ALG means that the camps we run and the staff we hire are informed by a common goal to provide young people with 'immersive experiences and long-lasting life skills'.

Working alongside brands such as Camp Wilderness and The Bushcraft Company, has allowed us to draw on the expertise and knowledge of their staff to bring to life SuperCamps' Specialist courses such as Bushcraft: Rainforest Survival. Equally, connecting with brands such as Ardmore Language schools has allowed us to introduce international students to our camps, giving children new and exciting social and cultural experiences.

It was also during 2017 that we introduced SuperClubs: our term-time wraparound care provision which now runs at 5 different venues. Look out for news of our new SuperClubs venue for 2020…

2018

Last year saw the introduction of exciting new activities such as Laser Tag, as well as the launch of a brand-new website which would allow for a more convenient, user-friendly experience for parents booking camps. Whether you're looking to book a month in advance or the day before camp, our website allows for last minute hassle-free bookings.

2019

From partnerships with Pokémon to the launch of our Chelsea FC Football camps, it's been a fantastic year for SuperCamps. Highlights include our first ever Chelsea SuperStar event, and the introduction of our popular Build-Your-Own-Bear workshops to camp.

2020

So, what's next? For 2020, we're looking forward to new venues, new partnerships and some exciting new specialist courses.

You can continue to follow the SuperCamps journey by signing up to our newsletter and keep up to date on news, announcements and stories through our social media and the blog.