Super add-on: Build Your Own Bear
Meet the Bear with a license to cuddle.
This Easter on a Multi-Activity camp near you, Build-Your-Own-Bear is going undercover as Secret Agent Ted. Dangerously fluffy and covertly camouflaged, Agent Ted is on a mission to find a SuperCamps best friend.
The perfect sidekick to accompany every child on our Spy Adventure themed Easter camps, Agent Ted can be your child's to build, take home and cherish.
Available on all Easter Multi-Activity camps as an extra add-on, don't forget to add this popular highlight activity to your basket at the checkout stage.
Stay tuned for our Summer Build-Your-Own-Bear launch!
DETAILS AND PRICES
Ages: 4-12
Date: Thursdays
Price: £15
Easter Teddies: The name's Ted, Agent Ted.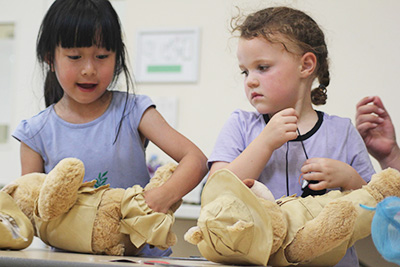 During February Half Term, a limited selection of bears are available to choose from. Book early to secure your child's place!