How to Create a Wildlife-Friendly Garden for Kids
29 April 2020
Cultivating a wildlife-friendly habitat within the walls of your garden not only means your family can enjoy living in close proximity to nature, but will serve the birds, insects and min-beasts in your area. Here are three fun ways you and your kids can encourage wildlife and natural beauty to blossom in your garden:
Hedgehog Hideaways
Safe, snug and secluded shelters for hedgehogs can act as the perfect recluse for our spiky, pin-tailed friends away from busy traffic, loud lawnmowers and over-industrialised land. An upturned milk crate, planter or compost heap placed in a quiet, shaded area of your garden is an ideal space for a hedgehog haven. Padded out with dry leaves or hay to keep these endangered mini beasts protected and cosy, you can even create a small tunnel to your hedgehog's new home to keep out pesky humans and larger animals. Hedgehogs tend to eat creepy crawlies that can be found in the garden; however, you can also leave out water and tinned cat or dog food (not fish-based) to keep these little creatures happy and nourished.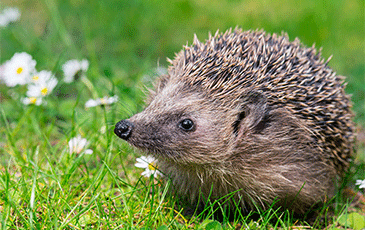 Wildflowers for Bees and Butterflies
With our bee and butterfly population dwindling, growing plants such as wildflowers which are rich in nectar and pollen, offers a great source of food for insects to feed and thrive from.
Kids can embrace getting hands dirty outdoors whilst looking after their environment, planting a mix of brightly coloured wildflowers. Wildflower seeds can be grown during any season, however for this time of year, bulbs such as Corncockle, Marigolds, Poppies and Chamomile produce quick-sprouting flowers that children can enjoy watching grow through Spring into Summer.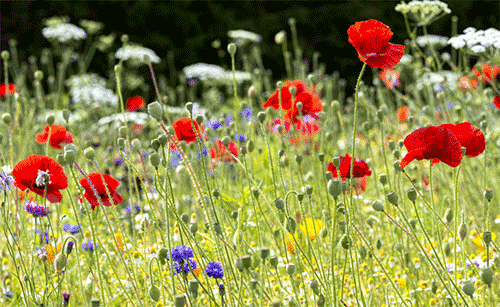 DIY Bird Feeds
Inviting birds into our gardens is not only a fantastic way to inspire children to notice and observe visiting birds but can also encourages pollination and the diversification of bird species in your area.
Creating food balls high in protein is a fantastic way to attract everything from sparrows to blue tits, offering our winged friends a tasty treat high in fat to keep them warm and energised. Food balls are very straightforward to make using a number of everyday ingredients you needn't travel too far to find. To create your bird feeder, first cut a small hole in the base of an empty yoghurt pot and thread a piece of string about 15cm long through. Combining one part lard to three parts bird seed, raisins and oats, distribute into yoghurt pots and leave in the fridge to set until hard. Cutting away your yoghurt pot (don't forget to recycle!) you should discover your perfectly formed bird feed creation. All there is to do now, is find a corner, crook or canny within your garden to hang this tasty creation.