Easter Pots - Crafts At Home.
12 April 2022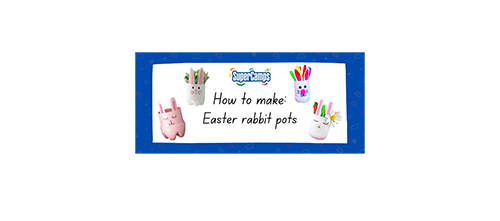 Looking to create some crafts this Easter but on a budget?
We have you covered! These simple pots use materials you can find in your home and make a great activity for kids.
What you will need:
Plastic bottles
Acrylic Paint
Paint Brush
Card
Scissors
Glue
Pens or colouring pencils
Let's get started:
1- Cut the bottles
To begin with we want to cut the bottom half of the plastic bottles.
Using a pen trace the outline you wish to cut. You can add extra Easter flair here by incorporating ears to make them look like bunny rabbits. Or cut the ears and other features out on card and stick them on afterwards. The choice is yours!
Discard the top halves or reuse them for other projects.
2- Time to paint
Now the kids can get involved. Set them up their own paint station and let them paint the bottles the colour of their choice.
Top tip - If you have time, do a white base coat first before adding bright colours such as pink and yellows to help them really pop and have full coverage.
3 - Make faces
Now everything has dried you can add any silly facial features you like.
Your kids can get really creative and cut the pieces out in card and glue them to their pots for a 3d effect or simply have them use pens and colouring pencils to add details.
And there you have it! A perfect, simple and easy Easter craft you can do this Easter break.
Remember they don't have to be rabbits if you want to make this craft another time of year. You can use all these techniques to create rocket ships, unicorns, Bats and so much more.
Take a look at our other craft at home craft blogs if you are struggling with ideas to keep the kids entertained this Easter holiday.