5 unicorn crafts for kids
24 May 2023
Unicorns have become a worldwide craze over the past decade, and it's not hard to see why! They're colourful, magical, and just plain fun. Children of all ages are fascinated by unicorns, which makes them the perfect inspiration for kid's crafts. Here, we will introduce you to five exciting unicorn crafts that will keep children entertained during the school holidays. These simple crafts can be done at home, making them perfect for parents who want to keep their kids busy without leaving the house:
Paper Plate Unicorn
For this craft, all you'll need is a paper plate, some coloured paper, a pencil, scissors, and some glue. Start by drawing a unicorn horn on the paper plate's centre using a pencil. Then cut out a pair of unicorn ears from coloured paper and glue them onto the back of the paper plate. Finish the craft by drawing eyes, nostrils, and a mouth on the front of the paper plate.
Unicorn Headband
Creating a unicorn headband is easy and can be made with a few simple materials. All you'll need is a plastic headband, felt, hot glue gun, ribbon, and a unicorn horn template. Cut out the felt in the shape of a unicorn horn, and glue it onto the headband using a hot glue gun. Tie ribbons to the end of the headband, and you're done!
Unicorn Poop Slime
Unicorn poop slime is a fun and slightly messy craft that kids will love! You'll need clear glue, food colouring, glitter, baking soda, and contact solution. Mix the clear glue with food colouring and glitter in a bowl. Add baking soda and mix well. Then add contact solution, and mix until the slime forms. Voila! You've got unicorn poop slime.
Unicorn Dreamcatcher
This craft is a little more complicated, but it's worth the effort. You will need a wooden hoop, yarn, feathers, and fake flowers. Begin by wrapping the yarn around the hoop and securing it with a knot. Tie pieces of yarn onto the hoop in a pattern you like. Then add feathers and flowers to the bottom of the dreamcatcher. Finish by attaching a unicorn horn to the top.
Unicorn Puppet
This craft is perfect for younger children who enjoy storytelling and role-playing. You'll need coloured paper, a googly eyes, glue, and scissors. Begin by cutting out a unicorn shape from paper, including the mane and tail. Then glue the edges of the paper together leaving a gap to put your fingers in. Add googly eyes, nostrils, and a mouth to complete the puppet.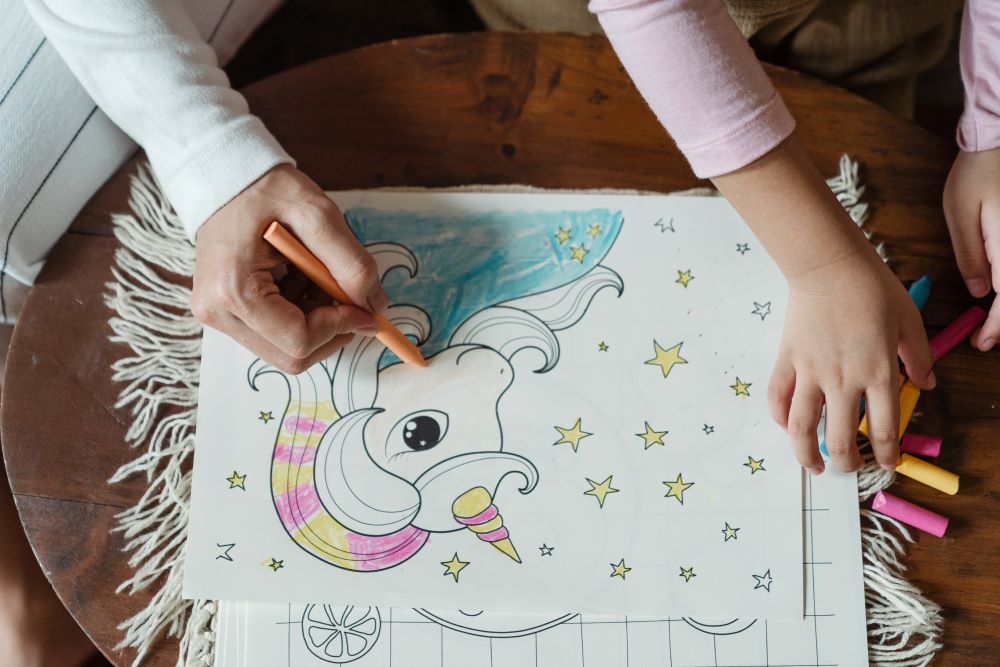 These five simple crafts are perfect for parents looking for fun activities to entertain their children over the school holidays. They require minimal materials and can be made at home with ease. Besides, they're sure to put a smile on any little unicorn lover's face. So, why not get your kids involved in some unicorn crafting fun today? It's the perfect way to while away a lazy afternoon.