Let your kids takeover the kitchen
09 March 2022
Did you know it's British Pie Week?
Getting kids into the kitchen can help foster a healthy relationship with food for them, as well as create fantastic opportunities for family bonding. Teaching kids how to cook also boosts their confidence and gives them a sense of independence, which will help them later in life when they need to fend for themselves (there's only so much takeout a university student can order).
We understand the importance of letting kids take over the kitchen, which is why over the summer, we had so many kids attend our RISE! Cookery specialist course. We're going to share some great ideas from this to help you get your little ones confident in the kitchen.
There's a lot going on in the kitchen, and if your child's never helped out before they might be a bit confused by what they need to do to begin with. Introduce them to the tools they'll be using and start small – create a checklist for prepping the space before cooking, get them to help with washing and chopping the food.
It's small, but it'll help build their confidence in the kitchen – before you know it they'll be the Jamie Oliver of the household!
Get them excited about what they're cooking
Ask your kids what their favorite meal is and help them to prepare that for dinner. It'll taste even better to them knowing their hard work has gone into it!
Or start them on a sweet treat – on our RISE Cookery Course, one of the first things the kids make is Shortbread. Who doesn't like dessert?! It's enough to excite anyone!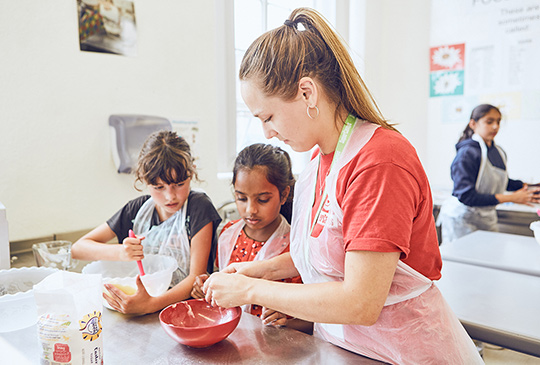 Get their opinion and experiment, experiment, experiment!
Kids are creative and wild! They might have recommendations that you'd never expected to improve dishes. And most importantly of all, let them try it out. Helping them to experiment with flavors and dishes is how they're going to build their confidence in the kitchen.
From Mini quiches to Courgette Curry – we had kids in the kitchen all summer long getting confident with the tools and getting excited about food. If your little chefs whip up something special today, let us know on Social Media!