A Day On Camp: Around the World in 5 Days
25 August 2019
In summer 2019, children on our Multi-Activity camps enjoyed different Themes of the Week across the season. From Green Week to Gameshows, all age groups loved our brilliant themed activities and giveaways. During our Around the World in 5 Days week, we headed over to The Abbey School to find out more about on-camp activities.
Red Kangaroo
The morning hopped off to a bouncy start, as children visited Red Kangaroo Indoor Trampoline Park for an excursion. Children loved jumping between giant, interconnected trampolines with their friends and practicing tumbles and rolls into the foam pit.
Instructors at the park were also on-hand, giving expert tips and advice to help children get that extra spring in their step! By the end, everyone had enjoyed giving trampolining a go (ourselves included) and we were excited to see what other activities were in store.
Build Your Own Bear
Back at camp, we joined some very lucky children for our optional Super Add On, Build Your Own Bear. In this fantastic workshop, they started with a teddy skin and made their very own bear. Once their teddy was the right level of squishiness with stuffing, they added hearts with wishes such as friendship and courage.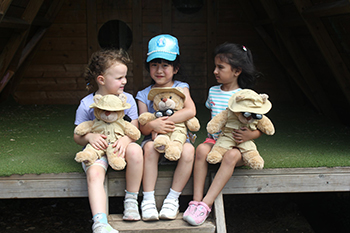 There was just one more thing left to add before the bears were ready to travel around the world: Safari Suits! The children dressed their furry friends, ready to set off on many adventures to come…
Messy Play
Finally, we headed outside for one last activity. Messy play is a classic SuperCamps Early Years activity, as little ones can explore different shapes, consistencies and textures. This helps them better-understand their environment and practice fine motor control.

Today, messy play was taking on a new twist as the crew were playing in the garden and exploring the world (in even less than 5 days!). From bubbles to dough balls, we saw all sorts of concoctions come to life using everything from washing up liquid to leaves.

;