Back to School: Healthy Eating at SuperClubs
27 February 2020
Stepping back into the busy schedule of school routines, it's more important than ever to ensure that our children are eating the right things in order to power their learning, growing and personal development during the school day.
SuperClubs' Term-Time Breakfast and After School service ensures children start the day right with nutritious breakfast options, as well as providing afternoon exercise and refreshments to keep children happy and active.
What is SuperClubs?
In addition to our seasonal camps, SuperCamps run term-time Breakfast and After-School clubs, currently based at five of our host venues. Offering parents, a fun, convenient and affordable childcare option, SuperClubs gives children the opportunity to engage in a range of fun and creative activities within a familiar environment alongside their school peers.
This week at our Northwood College for Girls' SuperClubs venue, the girls have been exploring healthy eating. Part of this theme includes an overhaul of the existing dinner and breakfast menu, where the children can try new tastes and textures, as well as enjoy games and activities that encourage them to form positive associations with healthy food and exercise.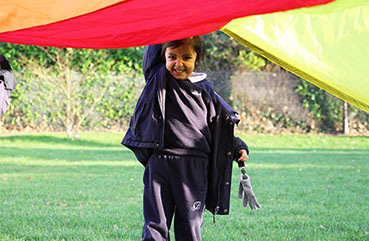 New Menu
Northwood SuperClubs have recently updated their after-school menu to ensure a more diverse offering that is both tasty and nutritious. Today the team are serving up Pesto and Spinach pasta. Disguised amongst the delicious taste of herby Pesto, the leafy green spinach is an excellent source of magnesium, iron and Vitamin K, ideal for fuelling growing children. And for dessert? The girls have a variety of fresh fruit to pick and choose from. Nectarines, banana and apple offer something sweet for after dinner and are packed full of healthy vitamins.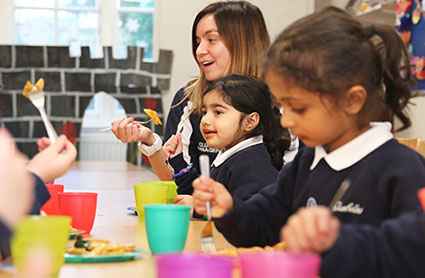 Encouraging a Healthy Lifestyle
This afternoon, the girls have been exploring colour and texture through fruit painting, recreating their favourite foods in clay, as well as keeping active outdoors with classic parachute games. Fresh air and light exercise at the end of a long school day can be the perfect remedy for lifting mood, increasing metabolism and improving sleep.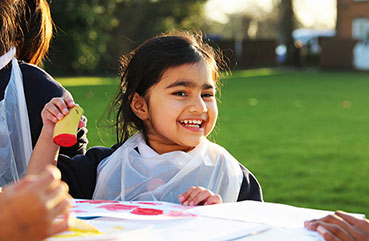 You can find out more about SuperClubs' After-School and Breakfast clubs here.