RISE Cookery School: Cook Around the World
Back by popular demand, our "Cook Around The World" theme will be continuing for 2021, taking children to even more countries and continents. Whether attending for the first time, or returning to camp to further develop their culinary skills, children attending our new and improved cookery course can look forward to serving up new recipes and facing new challenges.
For 2021, children will voyage from Europe to Asia and Latin America, cooking up recipes such as Patatas Bravas and Chinese Egg Cakes.
Duration: 5 day course (Mon-Fri)
Ages: 8-14
Price: £250
Times: 9am - 5pm (extended care available from 8am - 6pm)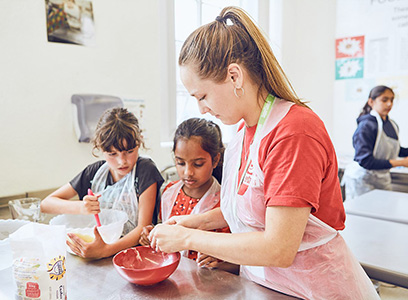 Parent, Duncombe School – "My daughter had a fantastic time on the cooking course. She loved the instructors, learnt so much, gained in confidence and bought home lots of delicious food!"
Parent, Trinity School – "My daughter thoroughly enjoyed her cooking course, she couldn't wait for the family to taste what she had made:-) The recipe book she came home with was a lovely quality reminder of the things she made, something I'm sure we will refer to again and again."