Specialist Course: LEGO® PLAY
This 5-day course is a must for all mini LEGO® enthusiasts. Combining imagination with strategy, learning with play, children will be tasked to engineer a number of bold and innovative builds inspired by the world around them. With a new theme each day, children will develop fine motor skills and learn effective problem solving as they bring to life a variety of different designs and ideas.
With new themes for 2020 such as 'Transport', children can turbocharge their creativity constructing everything from futurisitc submarines to high speed jet planes, whilst our city-inspired theme will challenge children to dream up fantastical brick-built worlds and encourage logic and physics, recreating iconic buildings.
Proud to have developed this course with input from the LEGO® Community Engagement team, SuperCamps are delighted to bring all budding LEGO® builders this engaging and exciting course.
Every child attending will also get to take home their scrapbook of creations in their own keep-sake LEGO® Journal! Inside will contain the blueprints to all their creations and images of their final builds. Additionally, each child will go home with a LEGO® set to keep.
DETAILS AND PRICES
Duration: 5-Day Course (Mon-Fri)
Ages: 6-12
Full Price: £249 5-Day (includes LEGO® set and journal)
Times: 9am-5pm (Extended Care available from 8am-6pm)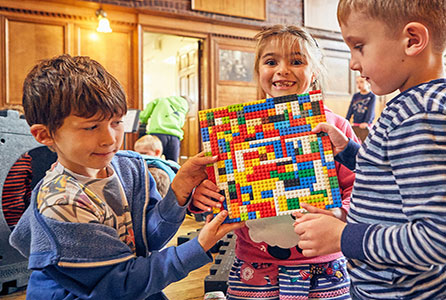 See below for some of our SUPER feedback this Summer 2019;
Parent, Sherfield School - "My daughter loved the Lego week, the freedom to build things in the way she wanted to. I liked the fact that it was guided - they had a challenge to follow and a period of time to do it in."

Parent, Malvern College - "Ava enjoyed the Lego camp very much! All staff and coaches were so kind and cheerful! The highlight for her was winning the super star of the week."
Parent, St Swithun's School - "The leaders of this Lego camp were engaged, energetic and inspiring. My boys came home and carried on playing with Lego each day (not even turning on tech!!). Brilliant!"